Search By Town
Search By Area
Search By Map
Full Search
Carrowmore Megalithic Cemetery- Carrowmore *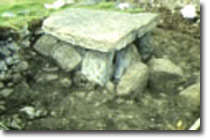 This is the largest cemetery of megalithic tombs in Ireland and is also among the country's oldest, with monuments ranging from five and a half thousand to six and a half thousand years old. Archaeologists have recorded over 60 tombs of which 30 are visible. A restored cottage houses an exhibition relating to the site. Access to the tombs may be difficult for people with disabilities. Visitors are advised to wear shoes suitable for walking on uneven terrain.
Directions
Located 4km from Sligo town centre.
* Pictures; courtesy of photographic unit of the department of environment, heritage and local government.
Carrowmore Listings
Sorry there is currently no listings for Carrowmore.
Sligo Listings
To search for County Sligo listings please choose from the links on the left hand side of the screen. These links enable you to search by town, by area, by map or by a full listing. The links on the right hand side of the screen enable you to view County Sligo map, festivals, visitor attractions and other useful information.
Ireland View is constantly improving the service to our visitors to ensure that you enjoy your search on this site and find all the information you require to book your Irish Holiday. If you experience any difficulties please contact the Web Developer directly by clicking on the link in the Other Resources section.
Selection From Our Full Listings
County Search
Carlow | Cavan | Clare | Cork | Donegal | Dublin | Galway | Kerry | Kildare | Kilkenny | Laois | Leitrim | Limerick | Longford | Louth | Mayo | Meath | Monaghan | Offaly | Roscommon | Sligo | Tipperary | Waterford | Westmeath | Wexford | Wicklow
Other Resources
Add to favourites
Contact Us
Add Your Business
Web Developer

External Links
Hotel Groups
Sligo Guide
Books
Public Transport
Facebook
Ireland View
Promote Your Page Too
Translation