Search By Town
Search By Map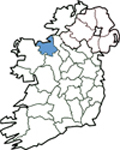 Holiday Accommodation
Sligo Abbey - Sligo *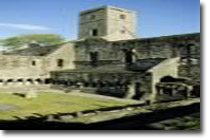 Known locally as the Abbey, this Dominican Friary was founded in the mid - 13th century by Maurice Fitzgerald. The site contains a great wealth of carvings including Gothic and Renaissance tomb sculpture, well preserved cloister and the only sculptured 15th century high altar to survive in any Irish monastic church. This enigmatic friary will inspire and enlighten it's visitors. Access o site is by stone stairway.
Directions
Located on Abbey Street in Sligo town centre.
* Pictures; courtesy of photographic unit of the department of environment, heritage and local government.
Sligo Listings
Sorry there is currently no listings for Sligo.
Sligo Listings
To search for County Sligo listings please choose from the links on the left hand side of the screen. These links enable you to search by town, by area, by map or by a full listing. The links on the right hand side of the screen enable you to view County Sligo map, festivals, visitor attractions and other useful information.
Ireland View is constantly improving the service to our visitors to ensure that you enjoy your search on this site and find all the information you require to book your Irish Holiday. If you experience any difficulties please contact the Web Developer directly by clicking on the link in the Other Resources section.
Selection From Our Full Listings
County Search
Carlow | Cavan | Clare | Cork | Donegal | Dublin | Galway | Kerry | Kildare | Kilkenny | Laois | Leitrim | Limerick | Longford | Louth | Mayo | Meath | Monaghan | Offaly | Roscommon | Sligo | Tipperary | Waterford | Westmeath | Wexford | Wicklow
Other Resources
Add to favourites
Contact Us
Add Your Business
Web Developer

External Links
Sligo Guide
Facebook
Ireland View
Promote Your Page Too