Search By Town
Search By Map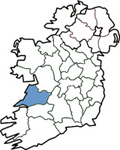 Dromoland Golf Course - Newmarket-on-Fergus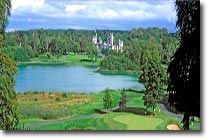 Dromoland Castle Golf and Country Club has been in existence since 1962 and golf has been played for 43 years over the lush rolling tree lined landscape that drains into Dromoland Lough with the Castle as a backdrop. The course was been entirely revamped in 2004 at a cost of over €5million, and has subsequently been refined and polished over following few years. The Course architects, Ron Kirby and the late JB Carr teamed up again following their success at the Old Head of Kinsale. The result is nothing short of spectacular and places Dromoland at the vanguard of "must play" golf destinations on the island of Ireland. Already the course has earned a reputation equalling that of Adare and Mount Juliet and the quality of the greens and tees is compared very favourably to the very best worldwide.
Directions
Located close to Newmarket-on-Fergus Village.
Newmarket-on-Fergus Listings
Sorry there is currently no listings for Newmarket-on-Fergus.
Clare Listings
To search for County Clare listings please choose from the links on the left hand side of the screen. These links enable you to search by town, by area, by map or by a full listing. The links on the right hand side of the screen enable you to view County Clare map, festivals, visitor attractions and other useful information.
Ireland View is constantly improving the service to our visitors to ensure that you enjoy your search on this site and find all the information you require to book your Irish Holiday. If you experience any difficulties please contact the Web Developer directly by clicking on the link in the Other Resources section.
Selection From Our Full Listings
County Search
Carlow | Cavan | Clare | Cork | Donegal | Dublin | Galway | Kerry | Kildare | Kilkenny | Laois | Leitrim | Limerick | Longford | Louth | Mayo | Meath | Monaghan | Offaly | Roscommon | Sligo | Tipperary | Waterford | Westmeath | Wexford | Wicklow
Other Resources
Add to favourites
Contact Us
Add Your Business
Web Developer

External Links
Clare Guide