Search By Town
Search By Map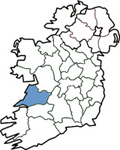 Lahinch Golf Course - Lahinch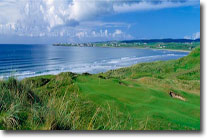 Lahinch Golf Club is frequently referred to as "the St. Andrew's of Ireland" because of its close proximity and interaction with the local village. The links is situated on the edge of the Atlantic Ocean. The combination of bracing air and wind from the sea is one of the enduring attractions for golfers who ply their skills on two magnificent championship courses – the Old Course measuring 6950 yards and the Castle Course, measuring 5556 yards. There is a great welcome in Lahinch for golfers, young and old. Many golfers come from all parts of the world to play "Lahinch" and they regularly return. There is a friendly atmosphere at the Club and a deep appreciation of the game of golf. Since 1895 Lahinch has hosted the South of Ireland Championship, the oldest provincial golf championship in Ireland and a major highlight of the golfing year. Lahinch has also hosted all the major Irish championships, amateur and professional, down through the years. Both courses present a unique challenge for all categories of golfers. One's golfing education is not complete until the challenge of playing Lahinch is taken on and thoroughly enjoyed
Directions
Located close to Lahinch Town.
Lahinch Listings
Sorry there is currently no listings for Lahinch.
Clare Listings
To search for County Clare listings please choose from the links on the left hand side of the screen. These links enable you to search by town, by area, by map or by a full listing. The links on the right hand side of the screen enable you to view County Clare map, festivals, visitor attractions and other useful information.
Ireland View is constantly improving the service to our visitors to ensure that you enjoy your search on this site and find all the information you require to book your Irish Holiday. If you experience any difficulties please contact the Web Developer directly by clicking on the link in the Other Resources section.
Selection From Our Full Listings
County Search
Carlow | Cavan | Clare | Cork | Donegal | Dublin | Galway | Kerry | Kildare | Kilkenny | Laois | Leitrim | Limerick | Longford | Louth | Mayo | Meath | Monaghan | Offaly | Roscommon | Sligo | Tipperary | Waterford | Westmeath | Wexford | Wicklow
Other Resources
Add to favourites
Contact Us
Add Your Business
Web Developer

External Links
Clare Guide