Search By Town
Search By Map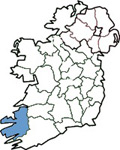 Holiday Accommodation
Lickeen Wood - Glencar *
The site is situated in the picturesque Glencar Valley, adjacent to Upper Caragh River, Caragh Lake and Lower Caragh River. The main tree species are primitive oak woods. Other broadleaves include holly and mountain ash, while conifers consist of Sitka spruce, Japanese and European larch, Douglas fir, Scots pine, lodgepole pine and grand and noble fir. The local fauna include otter and wild mink can be seen among the common wildlife. Red deer and sika deer are resident in small numbers in the adjoining woods. The usual woodland birds can be found. The facilities include picnic site and forest walk. The Upper and Lower Caragh Rivers and Caragh Lake are famous for salmon and trout fishing.
Directions
Lickeen Wood is located about 18 km south west of Killorglin on the Ballaghsheen Pass Road (3rd class road).
Maps
Ordnance Survey Ireland Discovery Series: Number 78
Visit our bookstore to purchase this and other travel maps .....Ireland View Book Store
* Text; courtesy of Coillte Outdoors.
Glencar
Sorry there is currently no listings for Glencar.
Kerry Listings
To search for County Kerry listings please choose from the links on the left hand side of the screen. These links enable you to search by town, by area, by map or by a full listing. The links on the right hand side of the screen enable you to view County Kerry map, festivals, visitor attractions and other useful information.
Ireland View is constantly improving the service to our visitors to ensure that you enjoy your search on this site and find all the information you require to book your Irish Holiday. If you experience any difficulties please contact the Web Developer directly by clicking on the link in the Other Resources section.
Selection From Our Full Listings
Other Resources
Add to favourites
Contact Us
Add Your Business
Web Developer

External Links
Kerry Guide
Facebook
Ireland View
Promote Your Page Too