Search By Town
Search By Map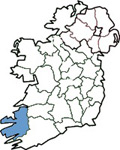 Holiday Accommodation
Glencar
Glencar is located above Caragh Lake along the Ring of Kerry. Glencar is nature lovers paradise, the area is naturally beautiful with Lickeen Forest, Caragh River and Caragh Lake. It is a spot that anglers return to on a yearly basis. The countryside lover will also be delighted with the country walks.
Glenbeigh Forest Trails
Lickeen Wood - Glencar
Glencar Listings
Sorry there is currently no listings for Glencar.
Kerry Listings
To search for County Kerry listings please choose from the links on the left hand side of the screen. These links enable you to search by town, by area, by map or by a full listing. The links on the right hand side of the screen enable you to view County Kerry map, festivals, visitor attractions and other useful information.
Ireland View is constantly improving the service to our visitors to ensure that you enjoy your search on this site and find all the information you require to book your Irish Holiday. If you experience any difficulties please contact the Web Developer directly by clicking on the link in the Other Resources section.
Selection From Our Full Listings
Other Resources
Add to favourites
Contact Us
Add Your Business
Web Developer

External Links
Kerry Guide
Facebook
Ireland View
Promote Your Page Too