Search By Town
Search By Map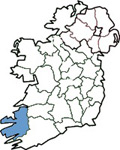 Holiday Accommodation
Gallarus Castle - Ballydavid *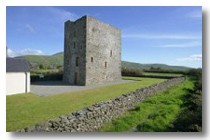 Gallarus Castle was built by the FitzGeralds and is probably 15th century in date. It is one of the few surviving castles on the Dingle peninsula. It is a four-storey tower with a vaulted ceiling on the fourth floor; none of its battlements remain. Conservation works have been undertaken at the castle in recent years and the interior is fully accessible. The tower was accessed originally on the 1st floor and there was a two storey defensive structure to the front, now gone but evidence of it can be seen on the external wall. Restricted access for visitors with disabiltiies. No car parking at site.
Directions
Located near Ballydavid Village.
* Pictures; courtesy of photographic unit of the department of environment, heritage and local government.
Ballydavid Listings
Sorry there is currently no listings for Ballydavid.
Kerry Listings
To search for County Kerry listings please choose from the links on the left hand side of the screen. These links enable you to search by town, by area, by map or by a full listing. The links on the right hand side of the screen enable you to view County Kerry map, festivals, visitor attractions and other useful information.
Ireland View is constantly improving the service to our visitors to ensure that you enjoy your search on this site and find all the information you require to book your Irish Holiday. If you experience any difficulties please contact the Web Developer directly by clicking on the link in the Other Resources section.
Selection From Our Full Listings
County Search
Carlow | Cavan | Clare | Cork | Donegal | Dublin | Galway | Kerry | Kildare | Kilkenny | Laois | Leitrim | Limerick | Longford | Louth | Mayo | Meath | Monaghan | Offaly | Roscommon | Sligo | Tipperary | Waterford | Westmeath | Wexford | Wicklow
Other Resources
Add to favourites
Contact Us
Add Your Business
Web Developer

External Links
Kerry Guide
Facebook
Ireland View
Promote Your Page Too