Search By Town
Search By Map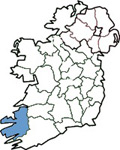 Holiday Accommodation
Kenmare Golf Course - Kenmare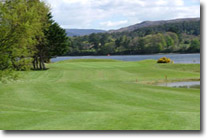 Kenmare Golf Club was founded in 1903, and was extended to 18 holes in 1993. Whilst the course can be very exacting for a good player, it is never unfair to the weak. The early holes stretch along the picturesque Roughty river estuary, while the remaining holes provide panoramic views of Kenmare Bay and the Roughty Valley. It is fair to say that the course is the jewel in the crown of the late great Mr. Eddie Hackett, one of the games premier golf course architects. The course has some great feature holes and is always in first class condition which are all the ingredients for a wonderful round of golf.
Directions
200 metres from Kenmare town, located on the left hand side just before you enter the town from the main Cork / Killarney road R569.
Kenmare Listings
Sorry there is currently no listings for Kenmare.
County Kerry Golf Courses
Ardfert Golf Club | Ballybunion Golf Club | Ballyheigue Golf Club | Beaufort Golf Club | Castlegregory Golf Club | Ceann Sibeal Golf Club | Dooks Golf Club | Kenmare Golf Club | Kerries Golf Club | Killarney Golf Club | Parknasilla Golf Club | Ring of Kerry Golf Club | Tralee Golf Club | Waterville Golf Club
Kerry Listings
To search for County Kerry listings please choose from the links on the left hand side of the screen. These links enable you to search by town, by area, by map or by a full listing. The links on the right hand side of the screen enable you to view County Kerry map, festivals, visitor attractions and other useful information.
Ireland View is constantly improving the service to our visitors to ensure that you enjoy your search on this site and find all the information you require to book your Irish Holiday. If you experience any difficulties please contact the Web Developer directly by clicking on the link in the Other Resources section.
Selection From Our Full Listings
County Search
Carlow | Cavan | Clare | Cork | Donegal | Dublin | Galway | Kerry | Kildare | Kilkenny | Laois | Leitrim | Limerick | Longford | Louth | Mayo | Meath | Monaghan | Offaly | Roscommon | Sligo | Tipperary | Waterford | Westmeath | Wexford | Wicklow
Other Resources
Add to favourites
Contact Us
Add Your Business
Web Developer

External Links
Kerry Guide
Facebook
Ireland View
Promote Your Page Too